Here is the detailed description of my new rig. Seems to be working really well, comments and suggestions greatly appreciated. Influenced by:
http://kungpaojetta.blogspot.com/2006/0 ... plete.html
The changes I made were to make it a single barrel system, and to reduce the length of tubing required in order to keep the power required down.
General Description:
image of flow chart showing the basic layout
photo of the rig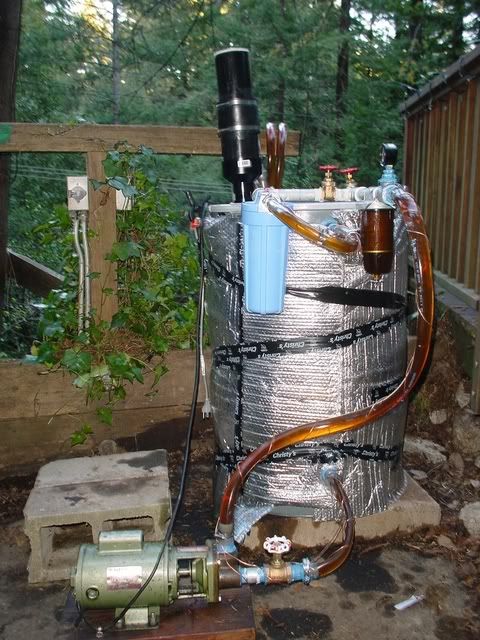 (0) True vegetarian restaurant oil collected and settled in 5 gallon "cubes".
(1) PREFILTER (3 stages)
Made a poor man's bag filter holder using 4 inch plastic pipe. It sits perfectly in the 2 inch bung opening on a 55 gallon drum. The key parts are the 4" to 2" reducer and the 2" to 1" reducer. The OD of the 2-to-1 reducer is perfect for the ID of the bung fitting.
Bag filters were 2-in-1 high capacity polyester felt. Stage one was a simple drain screen. Stage two was 100/50 microns and stage three was 50/25 microns. McMaster-Carr part # 5726K35 and 5726K34. Oil was poured slowly into this prefilter assembly so that everything entering the tank was at least nominally filtered to 25 microns. Made a small plunger to speed things up a little on cold nights. Not fast but very effective.
photo of prefilter dis-assembled
photo of prefilter assembled
photo of pre-filter mounted in 2" bung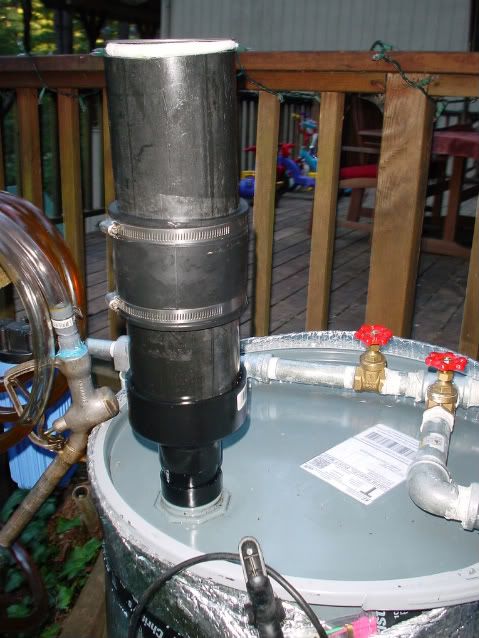 (2) FIRST FILTER LOOP (TO 5 MICRONS)
The oil is pumped from about 7inches from the bottom of the tank,
through a Goldenrod 15 micron and then through a 5 micron whole house water filter and back to the tank.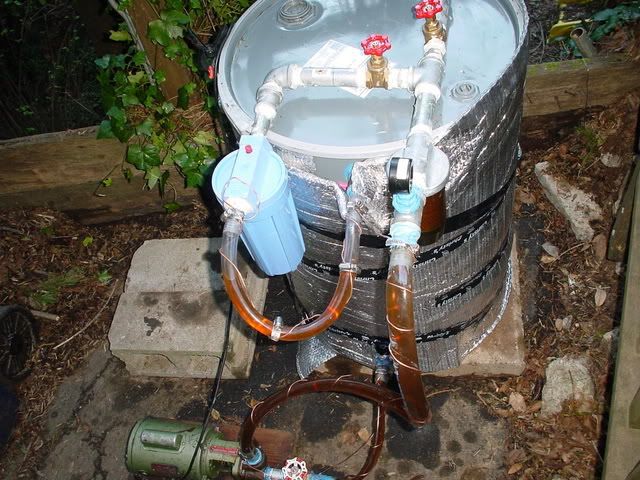 I tested the flow rate and it was about
2 gallons / minute at 50 psi. I process 30 gallons at a time, and so I ran the first loop for about an hour for 4 passes in theory. the pump pulls 9 amps at 120V. Energy cost was approx 1kw-hour. Only problem was high amounts of static electricity building up on the plastic tubing - hence the ground wire running everywhere and back to the motor.
(3) DEWATER
The barrel was wrapped with an 80ft 160W wrap around pipe heater available from USAHardware.com part # 20-210971. I wrapped from
above the outlet to below the inlet as shown here: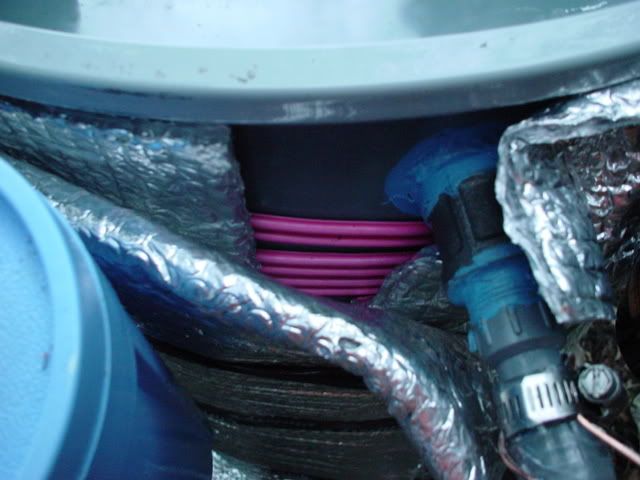 I was able to get the oil to about 95deg in approx 10 hours, then I held it there for about 8 hours. I used the aluminum foil coated bubble wrap type of insulation - much easier to work with and keep clean. i also used a tarp over the whole setup to keep the wind off. I insulated the top of the lid with a couple of towels under the tarp. I repeated the dewatering process twice to be sure, and it passed the hot pan test. An interesting note: I only process 30 Gal at a time, and so the pipe heater really heated up the air above the batch and appeared to heat from the top down which I think is a good thing for water separation. This is unlike a band heater or a submerged hot water heating element. But I am new to all this so comments are welcome.
(4) FINAL PASS to the FUELING NOZZLE
The valves you can see in the previous photos are just sequenced and so the oil flows through the Goldenrod and then it skips the 5 micron and instead goes through a PermaCool high flow rate 2 micron filter. Most folks stop with that, but the laws of statistics are against us. So I added a final polishing filter that is 0.5 microns glass fiber string wound. I can't afford the true 0.5 micron filter and this one is $10 Part# 451K11 and the holder is part # 9979T21 at McMasterCarr. I am using it to try and improve the stats for 2-5 micron particles (the most abrassive according to Sunwizard's CAT tractor study post). It has a really strong core and is rated well for oil. I found a $3 fuel nozzle on ebay.
thanks for reading this post! I will look forward to comments...