SunWizard wrote:If you loop the diesel to avoid this, then you would get the same time to switchover as if you didn't heat the diesel at all. But your WVO will be cooler at switchover and for the first few minutes, since its not sitting still in the hot FPHE during the warmup time. And this option would add the problem of any air that gets in the loop would never have a chance to get out, and could build up to cause trouble.
othello wrote:Oh, I need to understand that last sentence better.
Why would I possibly "accumulate" air in the system if I pre-heat both diesel and WVO, meaning the FPHE is installed after the last electrical switch valve??
If you could please elaborate on this point.
Looping the diesel return would be the only way to avoid heating your diesel tank. But if you loop, there is no way for air to get out. Draw a diagram of your fuel flow to understand better, here is mine which is looped on WVO, return on diesel: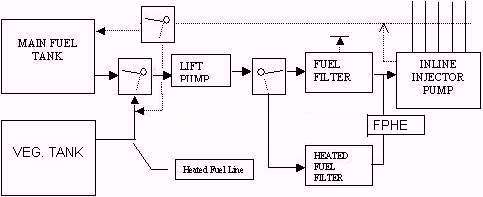 othello wrote:But hesitation still troubles me at times. I don't know the cause but trapped air could be one of them.
The other could be a clogged filter.
Since I try and clean my oil very diligently (with a centrifuge) I think the heated WVO oil filter should last longer than the 500 to 1500 miles I get. Unless it runs to cool and glyzerin or whatever else is in this oil clogs it, and not dirt.
At what temperature should the WVO typically pass thru the filter?
It depends on the WVO and what kind of fats it has. Meat fats and PHO can clog a filter at 100F even in small amounts. Suspended water is a common problem to cause clogs that quick, are you testing every batch?