Yes, I posted this somewhere else, too....
I had the oppurtunity to use some cool tools to do some 'real world' testing of diesel, biodiesel and VO.
First, let me describe my samples.
The diesel is from the pipeline, before it goes to the (2 million gal) tanks it is stored in before it gets on a truck to go to the gas stations. What does that mean? Its a little cleaner than what is at the gas station, not much.
The biodiesel was produced from WVO using a biopro 190. THIS sample came from my trucks fuel filter drain. It has some diesel in it. I estimate less than 5%.
The VO is from my trucks VO tank. It has some biodiesel in it. I estimate biodiesel is less than 10%, maybe less than 5%.
Before ya throw stones at me (not that I mind being stoned, hehehe:
relax, I'm KIDDING), I used these samples because I HAD THEM WITH ME today. I should have a chance to test 'pure' samples of VO and Biodiesel in a couple weeks.
OK, the tools. Specific gravity was measured w/a hygrometer - all samples were same temperature - about 65degs. Here's a pic: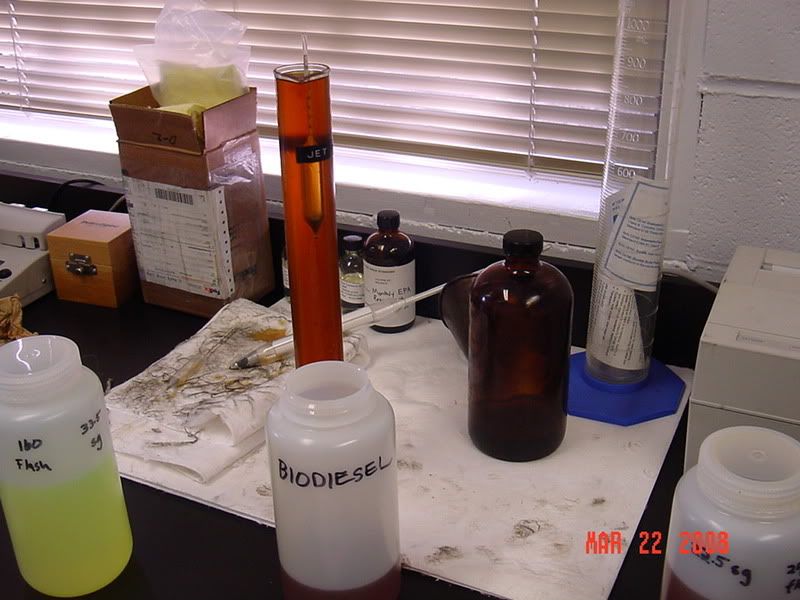 The Flash Point is measured with this cool gizmo: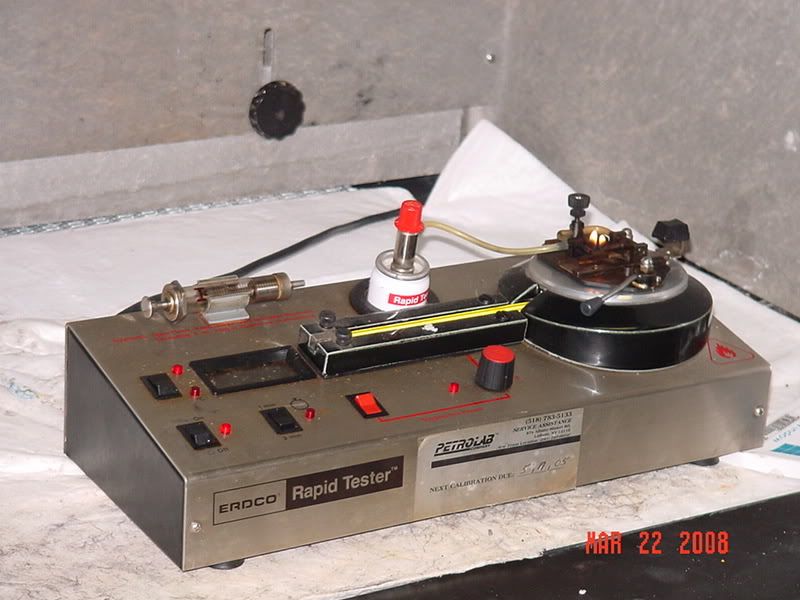 What it does is take a small sample and gradually heat it, carefully measuring the temp. Then, you slide a little lid open and touch the flame to the vapor above the sample. When it 'flashes' or flares up as the flame touches it - you have determined the flash point. Here's a pic of touching the flame to the sample: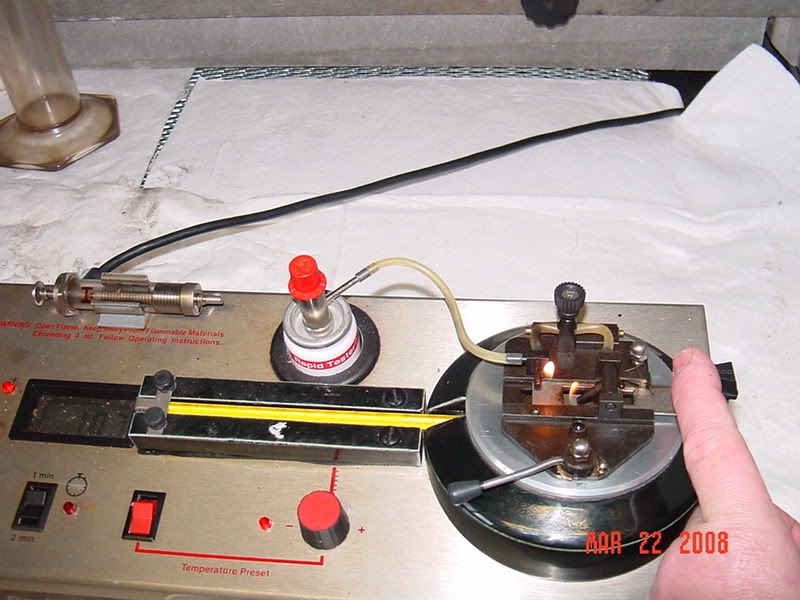 The results:

Diesel - specific gravity 33.5, flash point 160F
Biodiesel - sg 30, fp 200F
VO - sg 22.5, 240F
"Acceptable" Diesel flash point varies from 125 to 225, depending on the 'quality'.
One thing this does for me is explain why VO and diesel do not stay in solution very well. This VO was mostly non-PH also! I wouldn't be suprised if PH oil was even heavier. Another thing it does is verify 'crackle test' is not accurate if diesel or bio are present.
Comments and suggestions for future tests using these tools are welcome! Praise and admiration for my detailed, laborious scientific study are not required, just send money...