Hi everyone,
just a few pics of my wvo conversion. This tough old 4x4 vehicle has a 3.6litre engine, idi, inline ip, na.
It's used for long trips out bush, camping, towing camper/boat, lots off road work. This system is not designed for a short purge because it's not necessary with the work it does. I designed the wvo system to be reliable and capable of burning fatty wvo without plugging the filter. The filter is also flushed out with diesel at each purge which helps lubricate as hot diesel enters the ip during the shutdown purge.
I manage the system with a vaccume gauage connected between the filter and lift pump to show how hard the pump is working. This gives me advance warning on the 5micron filter and when I need to change it. The vacc gauage is mounted in the cab for easy viewing.
I also monitor the wvo temp before the ip. There is a sensor in the fuel line in contact with the wvo and again a cab mounted gauage next to the vacc.
This model Toyota doesn't have a fuel return to tank, only a looped injector overflow to the ip.
Mounted on the firewall under the lid is a three way ball valve with a dial on the dash to select diesel or wvo. The dial connects to the valve via a rod.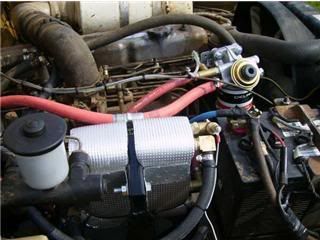 God bless froggo