24 October 2006
Note after testing many batches with my TDS meter (below) I have shown that the CF removes the contaminants so well that I don't mistwash any more. Here is what I built to mistwash some very bad VO I got. I use the barrel from my Centrifuge, and this drum lid $7.28 from
http://www.grainger.com/Grainger/wwg/itemDetailsRender.shtml?ItemId=1612699782
.
Then I drilled a hole in the top center and stuck this 4759T23 4gph mist head in it $22.14 from here at
http://www.mcmaster.com/nav/enter.asp?pagenum=1939
Just add fittings to connect to a garden hose. I mistwash until the water comes out clear. I am testing using a TDS (total dissolved solids) meter on a mini-mistwash of about a cup of the VO to determine if a mistwash is needed and if its removing anything. Most of the time I have determined that a mistwash isn't helping and is not needed.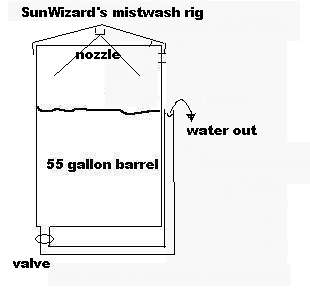 I hook a clear braided hose to the valve at the bottom, which goes straight up the side of the barrel. After I have mistwashed for 30 minutes and there is an inch or 2 of water on the bottom, I open the valve and water goes into the hose and up the side. Then when the water gets high enough it comes out the hose automatically maintaining whatever level I choose by how high the hose is. I clamp the hose in different positions onto the rigid CF pipe that goes up the side. You could use any pipe or board for the same function. This is nice since it allows adjusting for different batch sizes.
When its done, I close the valve, let it sit overnight for good separation, then lay the hose below the barrel on the ground, and use the same valve to drain all the water off the bottom by watching when VO starts to come out.