I have been testing an Acme juicerator, an old juicer that I bought on ebay for $15. They come up there often, I bought 4 for testing different mods (possibly destructive.) You get the 3600 rpm motor, a balanced stainless steel rotor, and a housing included. It requires a few easy mods to make it work. It has removed a 1/4" thick layer of black goo from my first 3 - 5 gallon test batches. I am still in early testing so haven't done any suspended water tests, but it should remove it similar to any CF with the same size rotor and speed. Here is the full rig: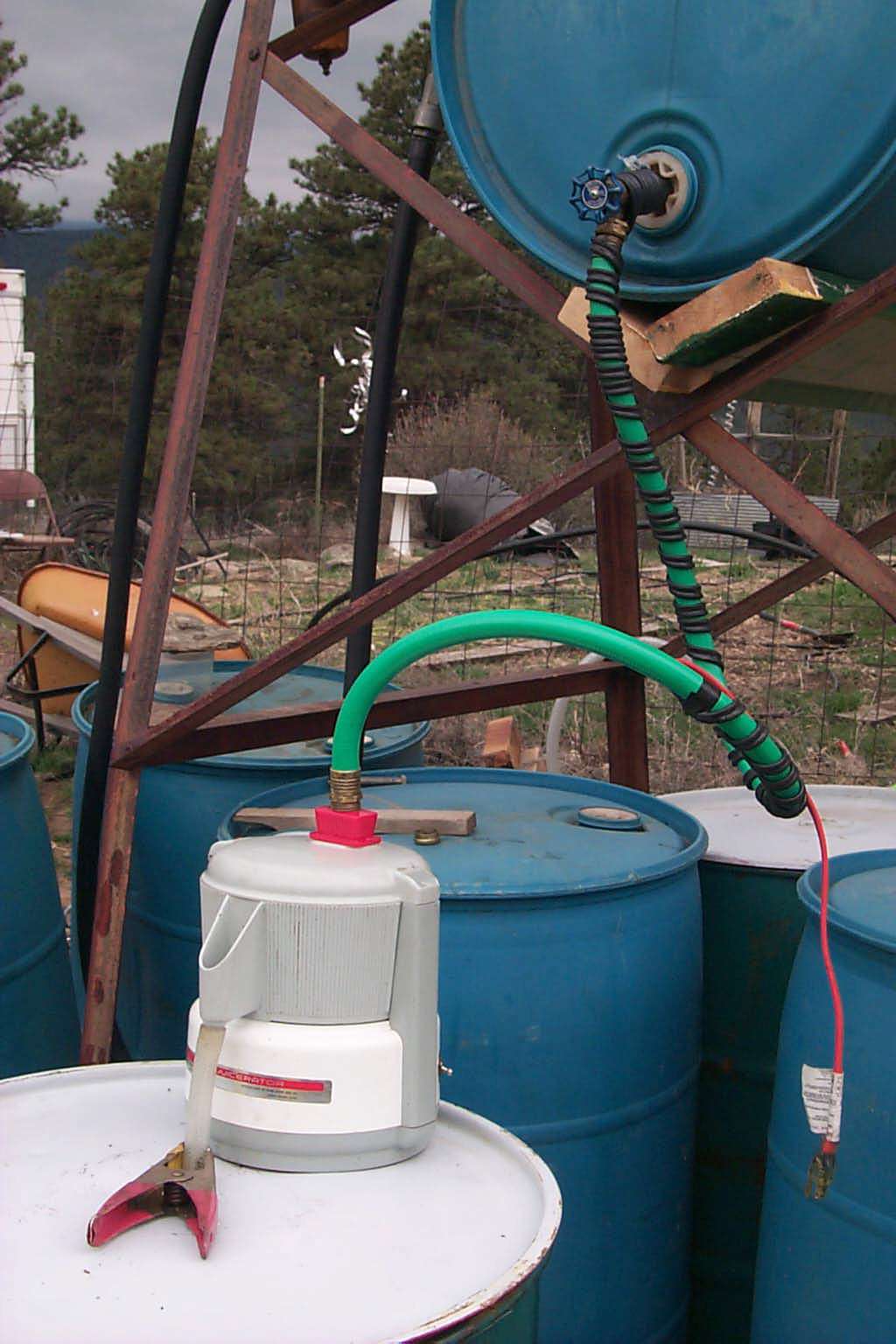 The top blue barrel gravity feeds through a faucet that I use to control the flow rate. The pipe and hose are wrapped with heat tape cable which provides a little heat to make it seperate better. This goes into the red plastic plunger which I drilled out to thread the garden hose in. I painted the rotor with rustoleum enamel paint inside and out. This is bubbling a little already due to the force, and I will probably do it with epoxy resin now that I have proven it works (edit-the epoxy resin is working good.) Here is the rotor before paint: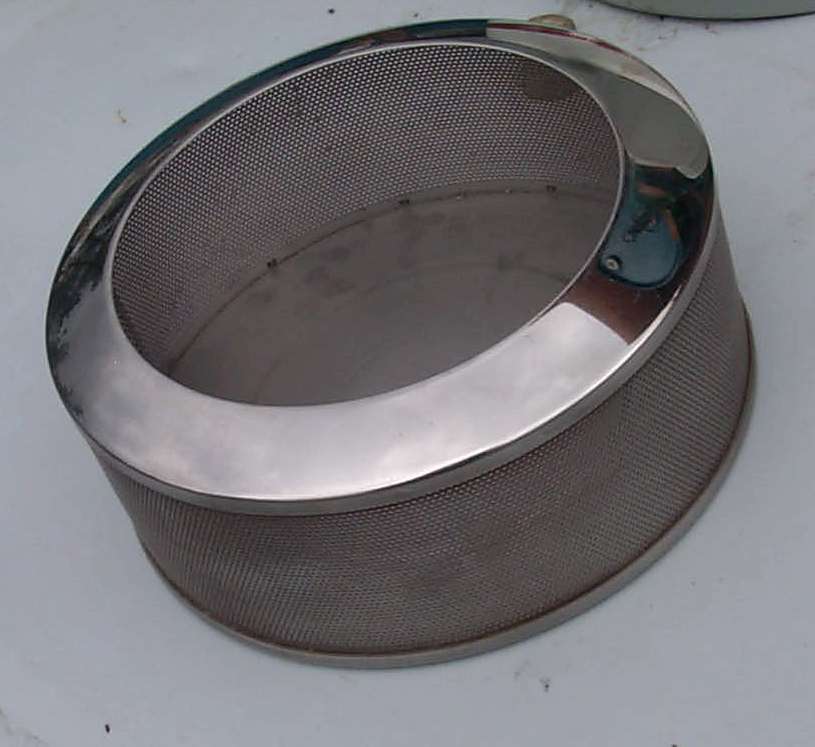 My first tests were with it ratchet strapped down on top of a barrel, and it vibrated too much after it got a good layer of goo. So much vibrating that it made my feed hose come loose and spilled some VO, lucky I was outside. It did remove a large amount of black goo. So then I bolted it down to the top of a barrel using the 4 existing bolt holes and 3" pieces of all-thread into the metal bottom of the juicer: (edit- I learned after more experimenting- don't strap it or bolt it, leave it loose, the magic red foam feet stop vibrating best. When its not attached, you may need to hold it while speeding up and slowing down to prevent it walking away. You need to get it very level to prevent vibration.)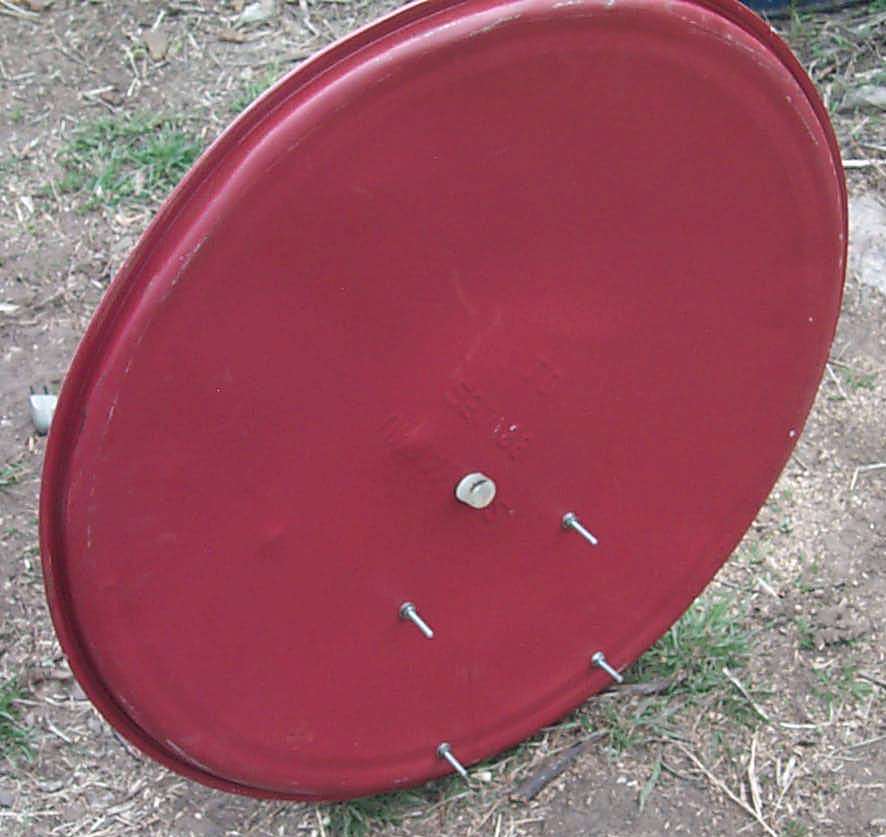 This still vibrated too much when full sometimes, it felt like it would tip the empty barrel or break itself. So I drilled 2 equally spaced small holes in the top of the rotor so it holds less VO when full: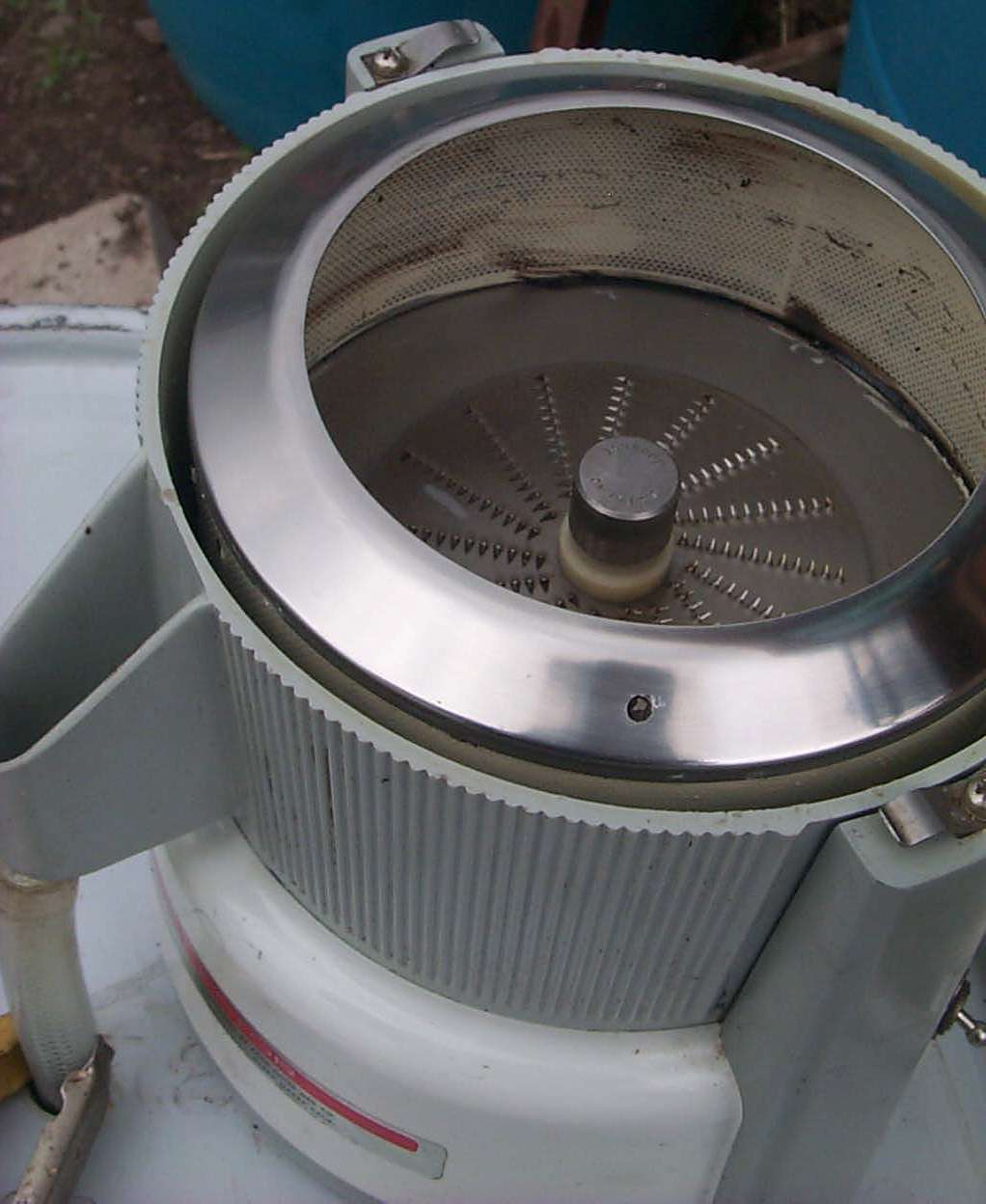 This did the trick, it runs smooth, and appears to be working great. More testing to come, I will run it on the same VO as my Dieselcraft to compare speed and water and particle removal. I think I made the holes in the rotor too low, so it doesn't hold enough VO now, so my next tests I will start with the holes right near the center, then test and if it still vibrates, try new holes slightly lower, etc.
You have to run the VO very slowly through it for the best goo removal. I am starting with is a 5gph rate since the rotor is about the same size as the Bud and simplecentrifuge designs, and the motor speed is the same. Thats much slower than my Dieselcraft CF, but it was cheap and I can run it (or even 2 of them) at the same time to get even more processed.
The water and goo stays in the rotor when you are done. You unscrew the knurled nut in the center to remove the rotor if you want, but thats not needed for cleaning. I just remove the top, take the whole juicer and flip it over into my "old wet and goopy" barrel. Then wipe with a plastic spatula, then a rag.
It has an interesting (patented) feature, the metal disk shredder part in the center is about 1/8" thick and floats up and down, spring loaded, to provide better balance. The rotor is 7" in diameter, 3600rpm, producing a g force of 1289g. Many of the 5001 and 6001 model# parts are interchangeable, the difference is the top part is stainless on the 6001 models instead of very hard plastic on the 5001.
One warning to all you mad scientists out there, be ready for some vibration! I wouldn't just set this on my kitchen counter and test it unless you want what im6under called an "oil van gogh". A rotor of this diameter when it starts to vibrate seems dangerous. The rotor mass is a lot less than a CF made from a solid block of aluminum, or a propane tank, or a pressure cooker, but beware! I would not leave this thing unattended for very long until after much more testing. The Dieselcraft CF seems much safer, I leave it unattended all the time and I have never had it start to vibrate much, no matter how much goo builds up, and I have run it at least 100 hours so far.