i read sunwizard's cummins thread over and over for a year while collecting parts and trying to rationalize ways to reduce the components. over and over i was convinced to leave the setup alone. schematically, mine is identical with the exception of an added bleed port and a valve to isolate the grease side from the veggie side at the final tee, for the sake of troubleshooting. i dont believe you can design a simpler, cheaper or more dependable system than his. Big thanks to SW!
here is sunwizards schematic
this is mine, still works the same, but the schematic accounts for physical layout of the components within my 97 dodge 3500. i do not show coolant flow for simplicity, only fuel. intersecting lines are separate unless they meet at a dot. colors are more or less arbitrary to help distinguish each segment of tube/hose.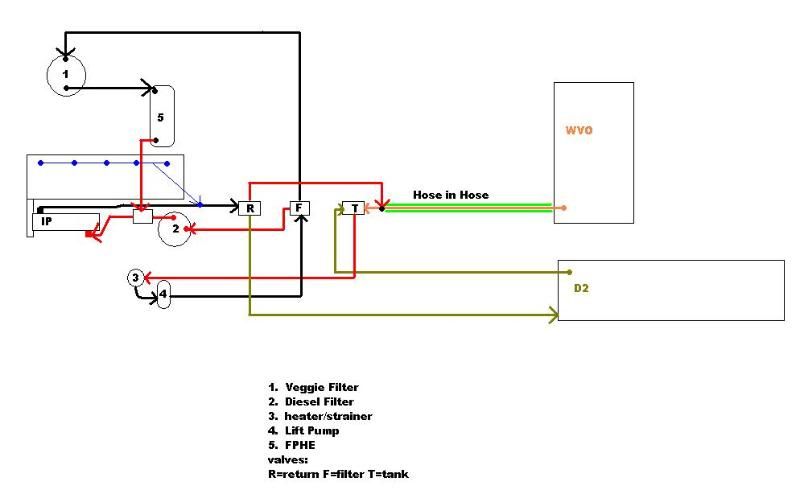 i arranged all of my 3 way valves in a single row. i used SeaSense brand valves for about $12 each. they have 4 positions and will spin 360 degrees, meaning only two positions work, and two dont. make sure you are very aware of how the handles are supposed to be BEFORE you mount them. buy all the same size so that you only need to keep a single spare in the tool box. there is only one stock 3/8 metal line in the truck, the rest are 5/16 and the 5/16 hose fits over all of them snug. 3/8 fuel hose will work but i recommend USA stainless double hose clamps on the pressure side. i used 30R7 fuel line.
valve connections
i sharpened the end of a thin plumbing pipe, heated it with a torch and hammered it into the carpet/insulation where valves and bolts needed to go through the floor. worked excellent.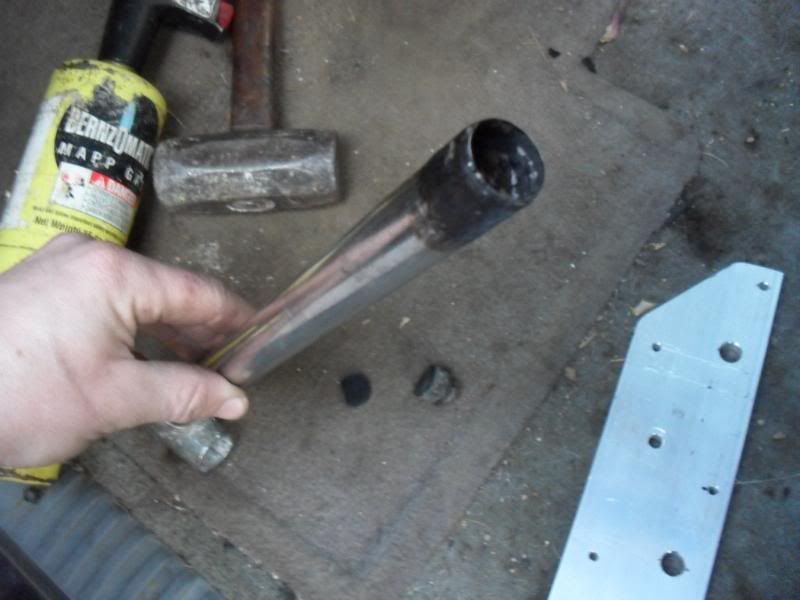 the carpet is 3/4" thick with a heavy plastic mat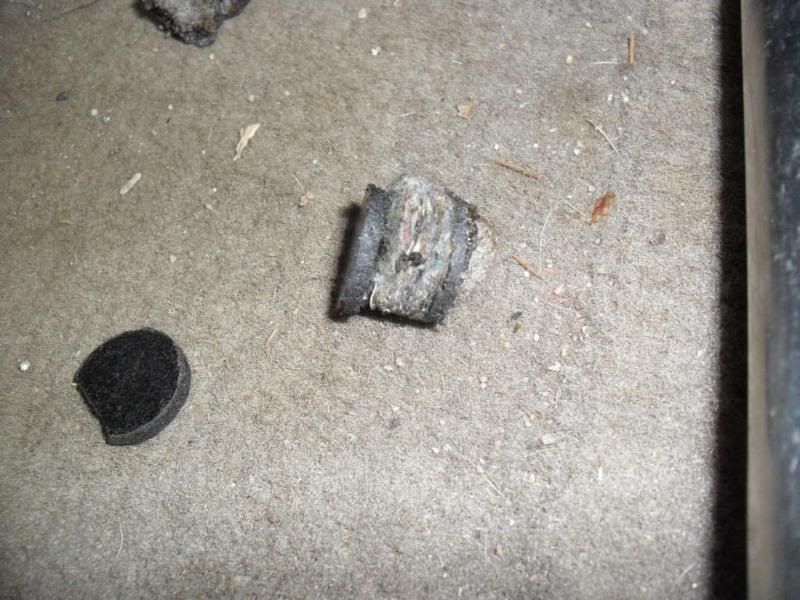 packed fiberglass around the valve stems to keep noise down
all 3 levers toward the tail lights = diesel. all 3 levers up = grease.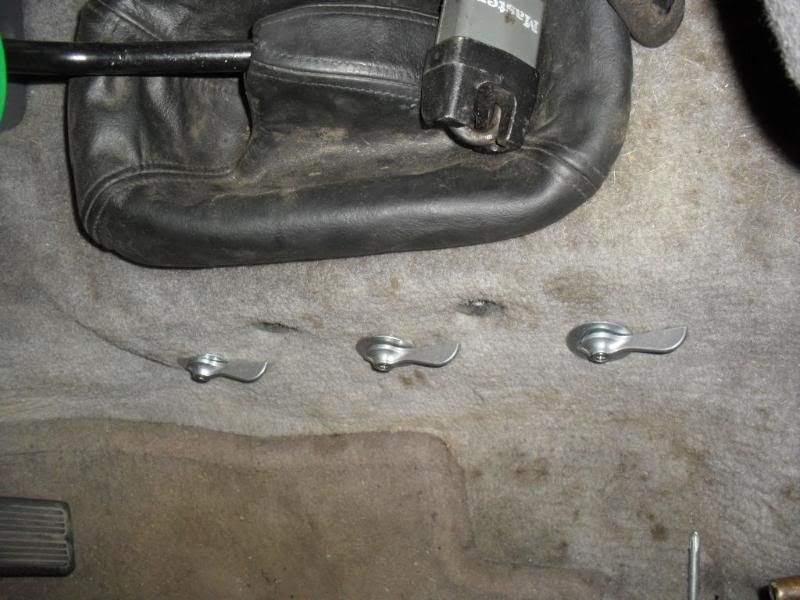 this is the space youve got to work with on the tranny tunnel. looking straight up from the ground. tight but adequate.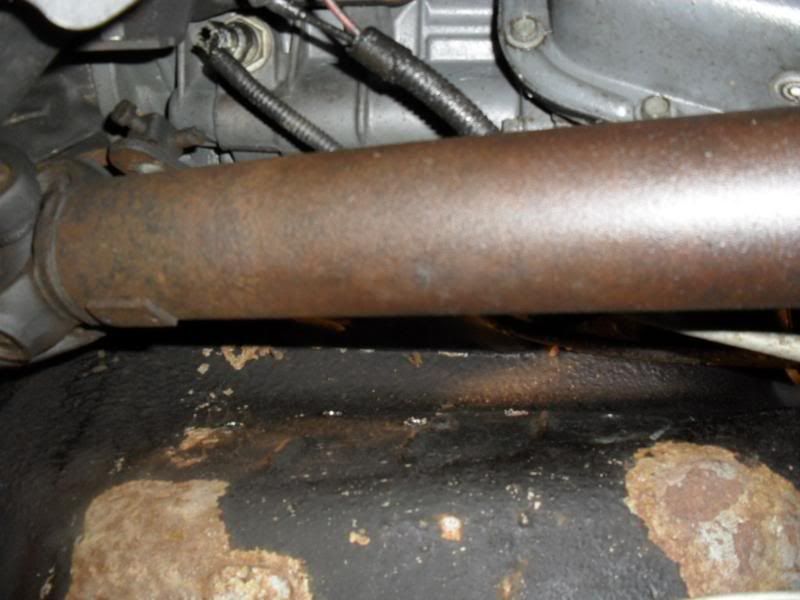 this is the .090" sheet that eventually became my 65 gallon L shaped veggie tank.
it was a LOT of tig welding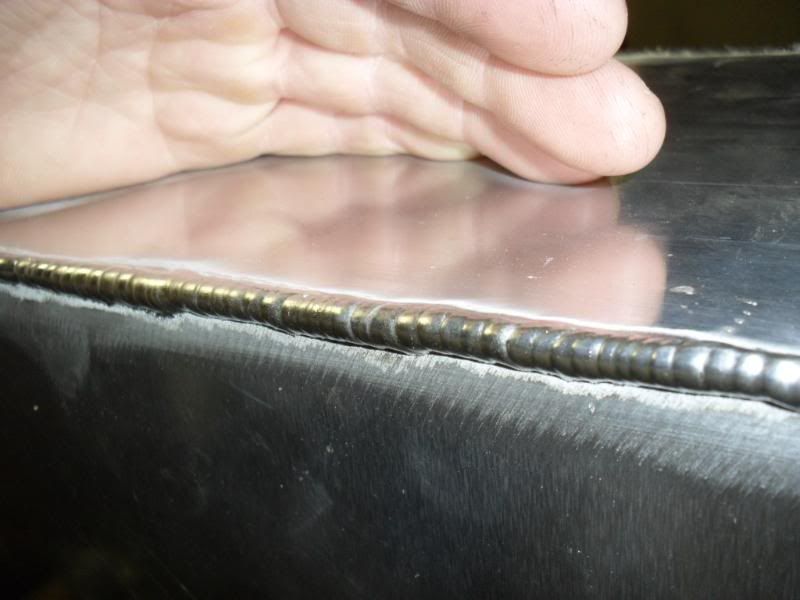 bored through my brass fittings.. .385" ID for .3/8 tubing.
heater loop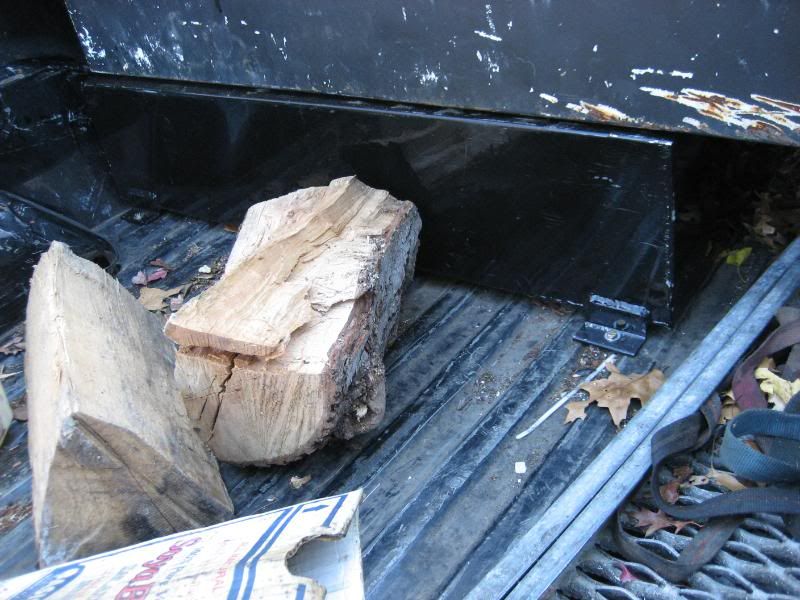 sits ontop my backrack rails, under the toolbox, and runs over to the stack.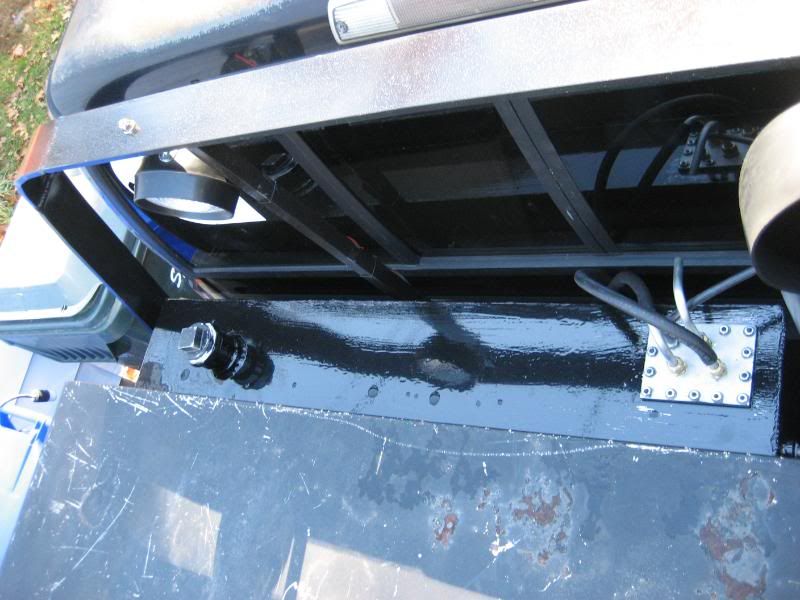 coolant in, coolant out, veggie out, vent
sight tube
tank drain and tee for eventual expansion to underbody tank as well.
tube in hose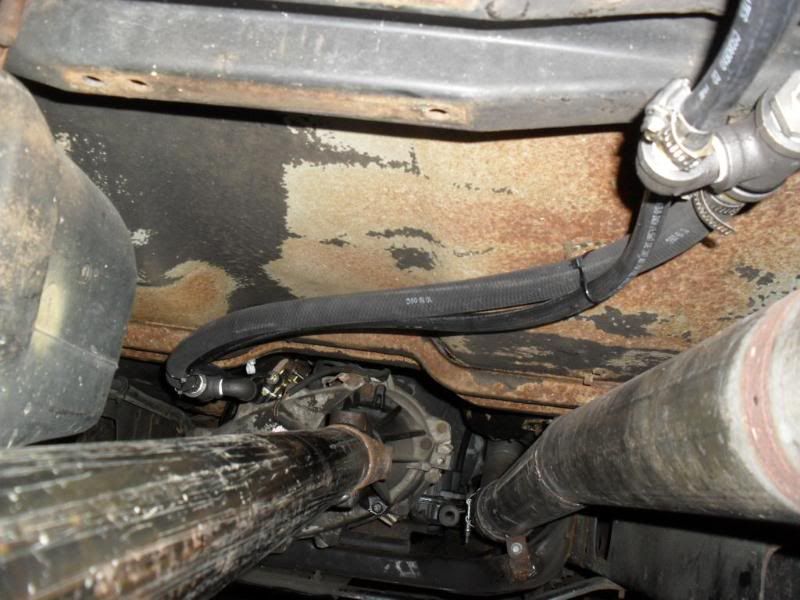 with stock diesel filter housing in place
without diesel filter housing
i cut my return line and removed the metal tubing to reroute with rubber hose in an easier access position, there are two fasteners on the tube.
pay close attention to the heater/strainer as it has 2 common failure methods
burned up heater element, sucking air at plug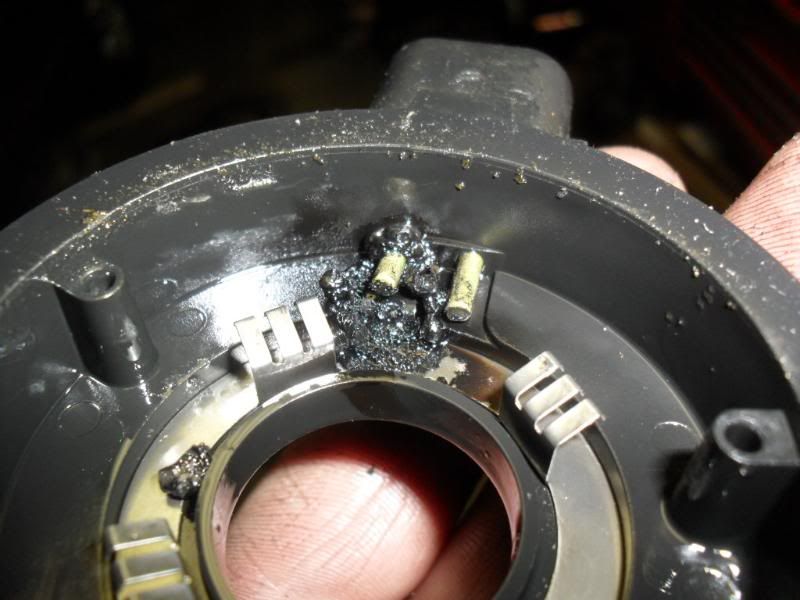 check often, never know whats in there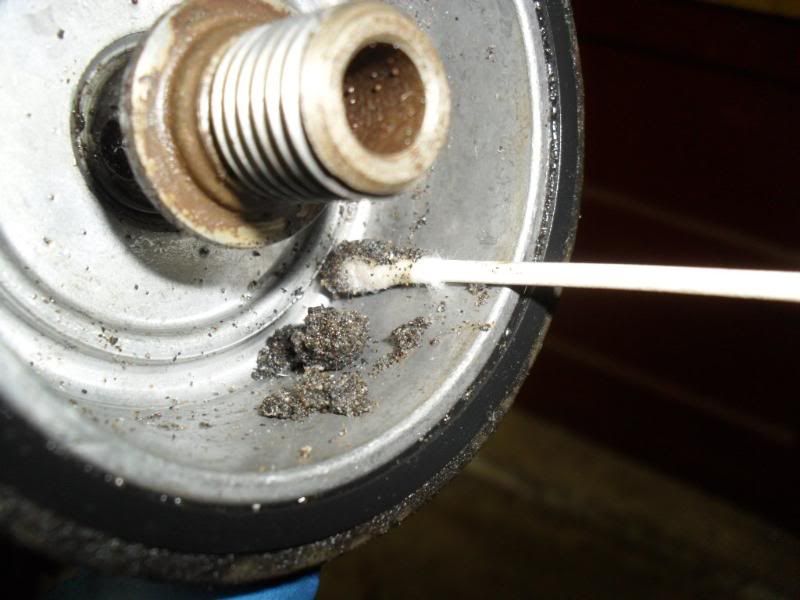 gelled veggie
cut injector drain
double banjo bolt that needs to be sealed.
machined aluminum spacer installed
3/16 hose on the drain line
to a tee down by the tranny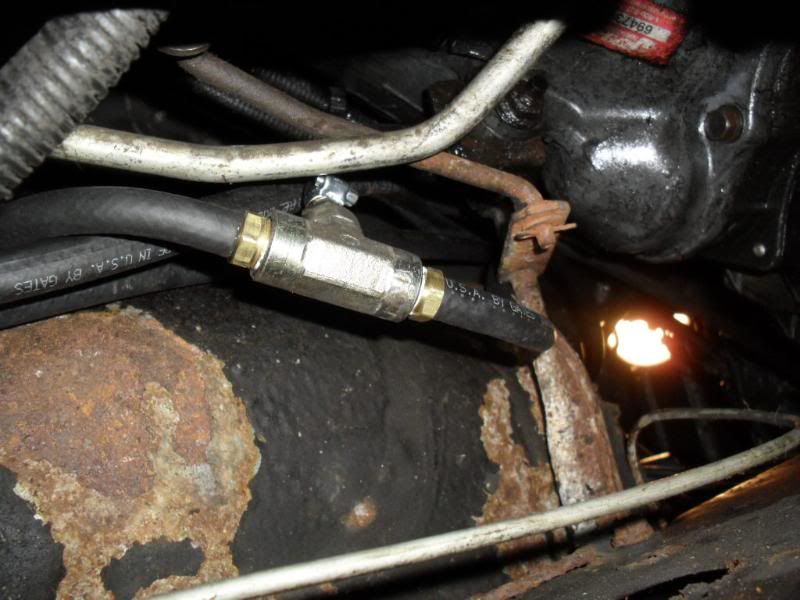 return hose and nylon boost line to guage
my FPHE has been moved to the area above the exhaust manifold to make use of free heat. insulation and shielding will be added.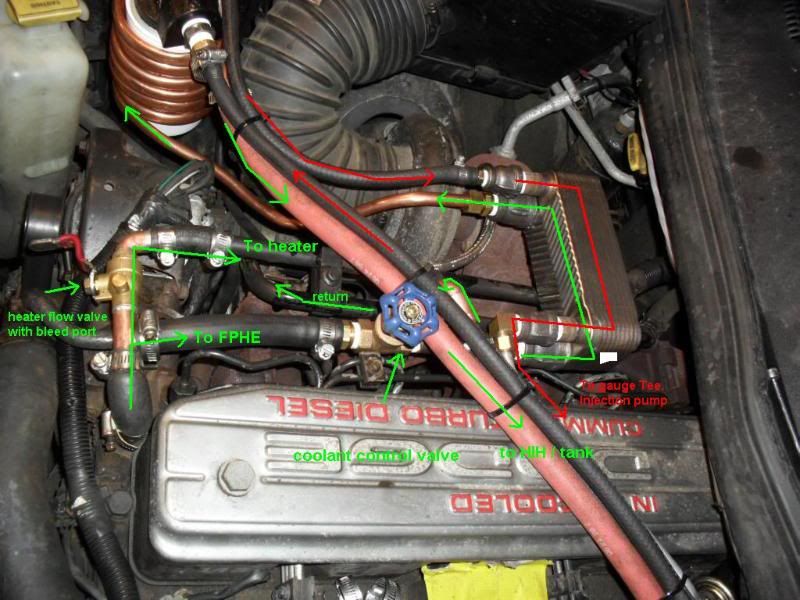 heated filter
1/2" rigid copper sweat fittings for tapping into coolant hot side. ball valve controls flow to heater core, bleed port is high point for getting air out. 5/8" heater hose fits perfectly.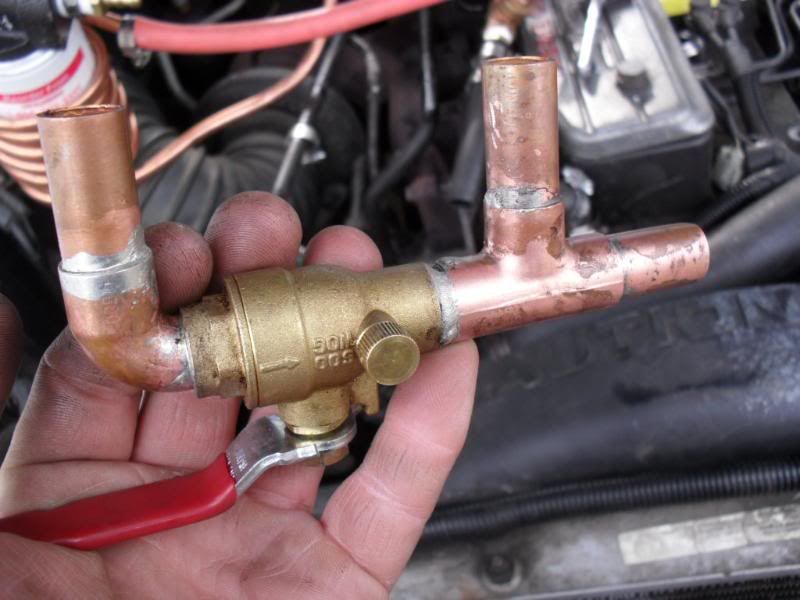 1/2" rigid copper tee soldered to stock steel return line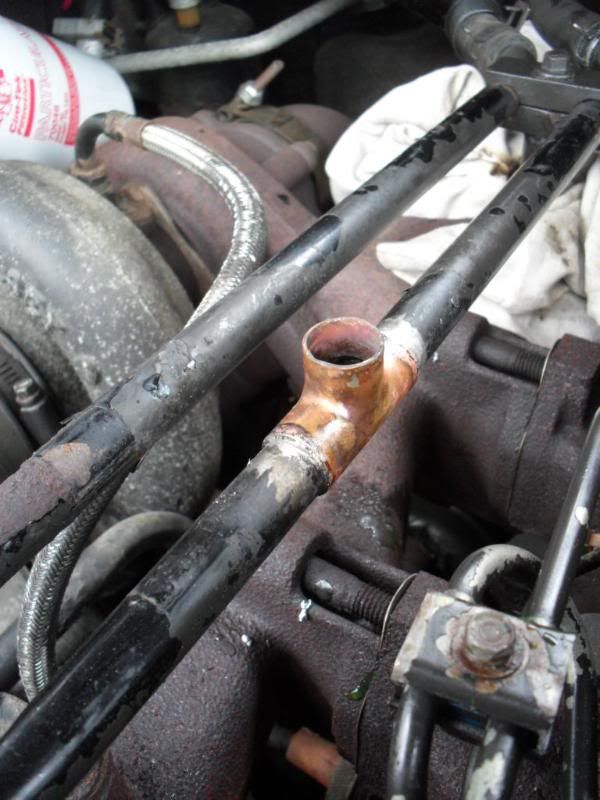 fuel feed into injection pump
coolant returns from veggie loop back to hardpipe through copper sweat fittings
machine aluminum block serves as the Tee between veggie and diesel just before the injection pump, and has 1/8 npt ports for temp and pressure senders. ball valve is to isolate the two systems for troubleshooting, and the shraeder relieves air trapped here in the systems highest point.
remove valve core and use hose to bleed.. either with vaccuum pump, or by cranking from one tank then the other. works phenomenally well.
i primed with a vaccuum pump and clear hose into jugs of fresh diesel
jug on the left is what went in. on the right is what came out, one pass through brand new hoses and filter, i swear.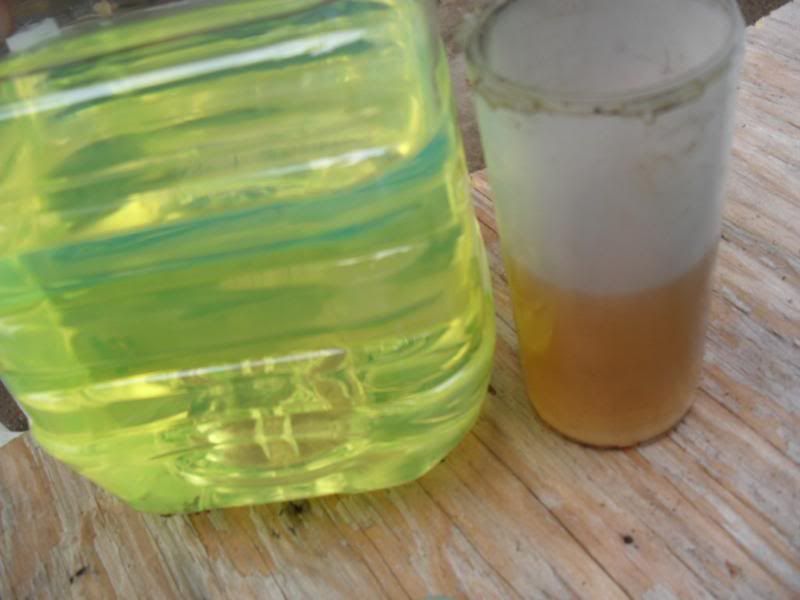 this jug came in very handy for filling the stock diesel filter without having to remove the canister from under all the lines.